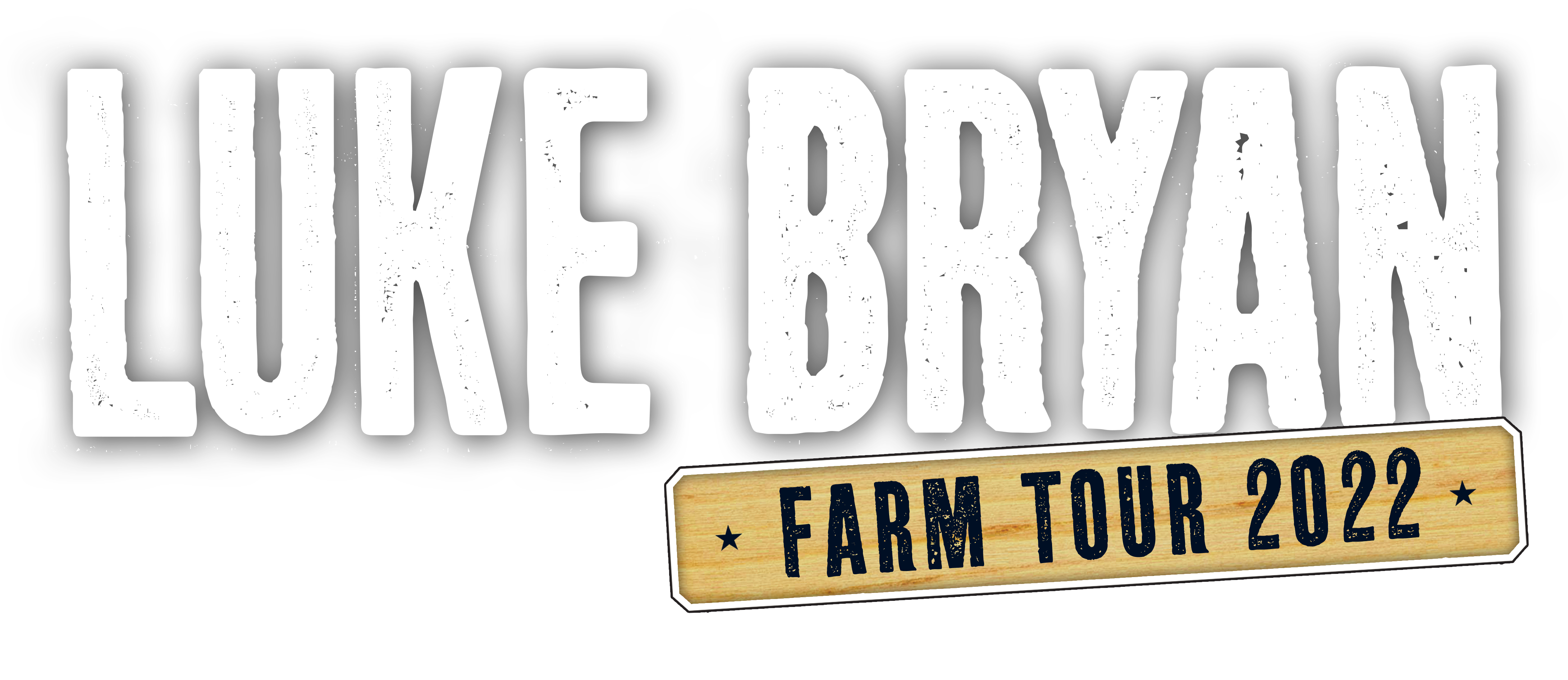 Luke Bryan Heads Back to the Farm this Fall:
FARM TOUR 2022
Tickets Available May 5 at LukeBryan.com
Bayer Again Joins FARM TOUR as Presenting Sponsor, Continuing its #HerestotheFarmer Campaign in Support of Feeding America®
Nashville – April 29, 2022 - Five-time Entertainer of the Year Luke Bryan will headline his thirteenth FARM TOUR this September during a two-week break from his "Raised Up Right Tour" launching in June. The Georgia native will set up stages in the fields of local farmers across six states September 15-24; two of the farms have never-been-played before. Riley Green, Jameson Rodgers, the Peach Pickers, and DJ Rock will be the special guests.
Tickets for FARM TOUR are on sale May 5 at 10AM local time at LukeBryan.com. Presale tickets for Luke's Fan Club (the Nut House) and fan App are available beginning May 2 at LukeBryan.com/allaccesspass.
"I look forward to these shows every year mainly because of the meaning behind them and why it was important to me to start the Farm Tour thirteen years ago," said Luke. "It has allowed communities who don't normally get a concert in their areas to experience a fun night in their backyard all while lifting up the American farmer. Small town and farming pretty much sum up my childhood. It is my way of life and I know it is a way of life for so many. It is truly the highlight of my year for me and my whole team."
Continuing a partnership that began in 2015, Bayer is once again joining the tour as presenting sponsor and teaming up with Luke Bryan to help celebrate America's farmers and fight hunger through its #HerestotheFarmer campaign. The campaign supports Bayer's vision of Health for All, Hunger for None and asks fans across the United States to share the hashtag #HerestotheFarmer on their social media channels to show their gratitude to America's farmers. From June 1 through October 31, 2022, for every share, Bayer will provide one meal± to a person in need through Feeding America® with the goal of helping to provide 1 million meals. Since the partnership's inception, nearly 5 million meals have been donated and more than $180,000 has gone to Feeding America member food banks and local farmers at each of the tour cities.
FARM TOUR 2022
9/15   Monroeville, IN                     Highland Farms*
9/16   Mechanicsburg, OH              SpringFork Farms
9/17   Fowlerville, MI                      Kubiak Family Farms*
9/22   Murdock, NE                        Stock Hay & Grain Farm*
9/23   Boone, IA                              Ziel Farm
9/24   Eyota, MN                            Gar-Lin Dairy*
openers on ALL dates / *Riley Green on these dates
Citi is the official card of FARM TOUR. Citi cardmembers will have access to presale tickets beginning May 2 at 10AM local time until May 5 at 10AM local time through the Citi Entertainment® program. For complete presale details visit www.citientertainment.com.
Over 100,000 fans have attended the tour each year since its inception in 2009. Luke will continue giving back to the farmers by awarding college scholarships to students from farming families who are attending the local college or university near the tour stops. To date, more than 60 scholarships have been granted.
Over 100,000 fans have attended the tour each year since its inception in 2009. Luke will continue giving back to the farmers by awarding college scholarships to students from farming families who are attending the local college or university near the tour stops. To date, more than 60 scholarships have been granted. 
To listen to Luke's Farm Tour playlist HERE.
About Luke Bryan
Since his debut, Luke has garnered 29 No. 1 hits and has more RIAA certified digital singles than any other Country artist with 68.5 million. His worldwide global streams are 17.2 billion and he has sold nearly 13 million albums. His headline concert tours have played sold-out shows for 12 million fans inclusive of 36 stadium concerts, Farm Tours, Spring Break shows, and seven sold-out 'Crash My Playa' destination concert events and he will launch the "Raised Up Right Tour" this summer. Bryan has won over 50 major music awards including five wins as Entertainer of the Year. His third and most recent Entertainer win was awarded by the Academy of Country Music in 2021. Additional awards include six recognitions as a CMT Artist of the Year, NSAI Artist/Songwriter of the Year, the first-ever recipient of the ACM Album of the Decade Award for Crash My Party, seven CMT Music Awards, five Billboard Music Awards, and four American Music Awards—as well as being named Billboard's Top Country Artist of the 2010s, the Most Heard Artist of the Decade by Country Aircheck, and the Artist Humanitarian Recipient by the Country Radio Broadcasters last year. Also in 2021, IMDbTV, Amazon's premium free streaming service, began airing his original five-part docuseries "Luke Bryan: My Dirt Road Diary." 
Bryan kicked off his headline residency at Resorts World Las Vegas in February with more shows added this summer. Go to axs.com for more details and tickets. Luke, Katy Perry and Lionel Richie have returned as the celebrity judges on ABC's American Idol as the show celebrates its 20th year. Season finale airs Sunday, May 22. 
On June 9, Luke will kick off his "Raised Up Right Tour" scheduled to run through October with opening guests Riley Green, Mitchell Tenpenny and DJ Rock. LukeBryan.com Facebook Twitter Instagram YouTube 
About Riley Green
Rolling Stone hailed his musical perspective as "Drinks-in-the-air Nineties country at an Alabama vs. Auburn tailgate," and that is just the type of energy fans have come to expect from Riley Green. Raised on the sounds of traditional Country, Bluegrass and Southern Gospel music, the Jacksonville, AL native learned the spirit of songwriting and performing at a young age while spending time with his grandfather, Bufford Green, who ran the Golden Saw Music Hall. That stage laid a foundation for the songs Riley would craft in the years to come and values learned from another generation. He fittingly shares co-writing credits posthumously alongside his two grandfathers on the PLATINUM certified "I Wish Grandpas Never Died," which and People praised "might take him to a whole new stratosphere. Evident on his debut album DIFFERENT 'ROUND HERE (BMLG Records), featuring the PLATINUM-certified hit No. 1 "There Was This Girl," MusicRow noted his "great country vocal, honest presentation and true-to-life lyrics." Riley's BEHIND THE BAR collection with fan-favorite "If It Wasn't For Trucks" and WE OUT HERE: LIVE followed as the 2020 ACM Awards New Male Artist of the Year has "brought country back to its roots: the blue collar sounds for the working man, by the working man" (Whiskey Riff). Named a CMT "Listen Up Artist," Riley was also voted as one of the CRS 2020 New Faces and earned MusicRow's Breakout Artist of the Year. In addition to his own headline dates, Riley joins Luke Bryan and Brooks & Dunn in the US this Summer before heading to Canada with Luke Combs in the Fall. He has previously hit the road with Jason Aldean, Brad Paisley, Jon Pardi and Dierks Bentley. For upcoming tour dates and more, visit RileyGreenMusic.com.
About Jameson Rodgers
Raised on the country rebels of old, country music's newest powerhouse Jameson Rodgers currently finds himself basking in the success of two consecutive No. 1 hits, with his Platinum-certified debut "Some Girls" and follow-up smash "Cold Beer Calling My Name," featuring label mate Luke Combs, making back-to-back runs up the charts. And now, with the release of his debut album Bet You're from a Small Town and his new single "Missing One" hitting airwaves across the nation, the soft-spoken yet edgy country traditionalist just might find himself landing in superstar territory. An already established singer/songwriter on multi-Platinum-selling hits for Florida Georgia Line (Top 10 single "Talk You Out of It") and Chris Lane (No. 1 smash "I Don't Know About You"), Bet You're From a Small Town is a gritty country music masterpiece effortlessly travels both sonically and lyrically between love songs ("Porch with a View") and breakup songs ("Girl with a Broken Heart,") party songs ("Cold Beer Calling my Name") and songs that tell the story of the deepest of losses ("Good Dogs.") "All these songs make me feel something," he admits. "That's the whole goal of music, isn't it?" JamesonRodgers.com | Facebook | Twitter | Instagram | YouTube
About The Peach Pickers
With more than 80 Number One songs among the hit-making trio, the Peach Pickers (Rhett Akins, Dallas Davidson and Ben Hayslip) are country music's most sought-after writing teams. They have each captured multiple songwriting awards from ASCAP, BMI, NSAI, Country Music Association (CMA) and the Academy of Country Music (ACM). The songwriting collaborations of the Peach Pickers have yielded dozens of #1 singles, including many recorded by fellow Georgian, Luke Bryan. The Peach Pickers have songwriting credits on the Bryan hits "Country Girl (Shake It for Me)," "I Don't Want This Night to End," "Play It Again," "Rain Is a Good Thing," and "That's My Kind of Night." Akins, Davidson, and Hayslip have also written hits for other artists, including "All About Tonight" (Blake Shelton); "All Over Me" (Josh Turner); "Gimme That Girl" (Joe Nichols); and "Put a Girl in It" (Brooks & Dunn), as well as songs recorded by Trace Adkins, Jason Aldean, Billy Currington, Brantley Gilbert, Lady Antebellum, Dustin Lynch, Reba McEntire, Justin Moore, Thomas Rhett, and Chris Young. Akins was most recently inducted into the Nashville Songwriters Hall of Fame in 2021.
About DJ Rock
DJ Rock got his start while in college at Georgia Southern University in the late 90s. There he had residencies at two of the hottest bars/ nightclubs in Statesboro, Georgia and played just about every frat and sorority house in the Southeast. Well versed in all formats of music, DJ Rock is truly an "open-format" DJ. Rock has shared the stage with some of music's hottest acts including JLO and Luke Bryan. He's played numerous private and corporate events for clients such as Under Armour, Red Bull and MillerCoors just to name a few. He's also, the New England Patriots' Super Bowl DJ, having played their official events for the last three Super Bowls. DJ Rock appeared on Luke Bryan's "Proud to be Right Here" Tour in 2021 and will head back out on the round with the country music superstar in 2022 on his "Raised Up Right Tour."
About Bayer 
Bayer is a global enterprise with core competencies in the life science fields of health care and nutrition. Its products and services are designed to help people and the planet thrive by supporting efforts to master the major challenges presented by a growing and aging global population. Bayer is committed to drive sustainable development and generate a positive impact with its businesses. At the same time, the Group aims to increase its earning power and create value through innovation and growth. The Bayer brand stands for trust, reliability and quality throughout the world. In fiscal 2021, the Group employed around 100,000 people and had sales of 44.1 billion euros. R&D expenses before special items amounted to 5.3 billion euros. For more information, go to www.bayer.com. 
About Farmland
Founded in 1959, Farmland is the maker of high-quality, flavorful meats. Rooted in rich traditions of America's heartland, Farmland is committed to a strong work ethic, community, substance over flash, and wholesome, quality food that people feel good about serving. Farmland's robust portfolio of products includes varieties of bacon, sausage, ham and lunch meat. For more information about our products and recipe inspiration, please visit www.FarmlandFoods.com or follow us on Facebook (@FarmlandFoods), Instagram (@farmlandfoods) or Twitter (@FarmlandFoods). Farmland is a brand of Smithfield Foods. 
About Fendt
Fendt is AGCO Corporation's leading high-tech brand for customers who demand nothing but the best quality from their machines and services. Fendt tractors, planters, combines and sprayers provide customers with innovative technology to improve performance, efficiency and profitability. Using resource-friendly solutions from Fendt helps farmers and contractors worldwide to work in a sustainable way. For more information, visit www.fendt.com or follow Fendt on Twitter (@Fendt_NA), Facebook (@FendtNorthAmerica), YouTube (Fendt TV) and Instagram (@Fendt.Global).
###
±$1 helps provide at least 10 meals secured by Feeding America on behalf of local member food banks. From 06/01/2022 to 10/31/2022 Bayer guarantees the financial equivalent of 1,000,000 meals ($100,000) in conjunction with the promotion.